Ostatni Klezmer Galicji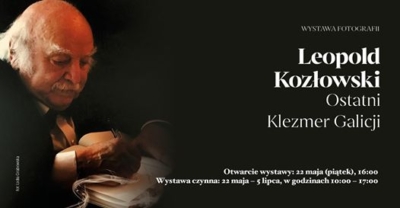 Kto czasami wpadał do Klezmer Hois, nie mógł nie zauważyć starszego pana, siedzącego przy stoliku tuż obok baru. Czasami samotnie pochylonego nad ulubionymi gęsimi pipkami, czasami otoczonego wianuszkiem słuchaczy, których raczył anegdotami i niebywałymi opowieściami z czasów, gdy jako chłopiec rozrabiał w położonych nieopodal Lwowa Przemyślanach, a kapela jego dziadka Pejsacha Brandweina słynęła na całą Galicję.
Leopold Kozłowski czarował także słuchaczy swoją klezmerską muzyką, która wypływała spod jego palców, gdy siadał do fortepianu.  – Tej żydowskiej muzyki nie sposób się nauczyć w nawet najlepszym konserwatorium. To tradycja przekazywana z dziada pradziada. Trzeba mieć ją we krwi – mawiał. – Klezmer wie, w co ubrać nutkę, jakim otoczyć ją uczuciem, jak załkać. A tego nie da się zapisać w nutach. Trzeba odsunąć od siebie pulpit na którym leżą, a przybliżyć do serca instrumenty. To serce dyktuje rytm, którym opowiadamy o naszych żydowskich smutkach i radościach.
Pan Leopold odszedł od nas rok temu. Jego postać wraca wraz z otwartą w synagodze Poppera wystawą, zatytułowaną Ostatni Klezmer Galicji. Można ją oglądać do 5 lipca.
(mhs)